NSW's leading Expanded Polystyrene (EPS) and Polyurethane (PUR) block manufacturer.
Polyurethane Foam Products
Enhanced Thermal and Fire Resistance Performance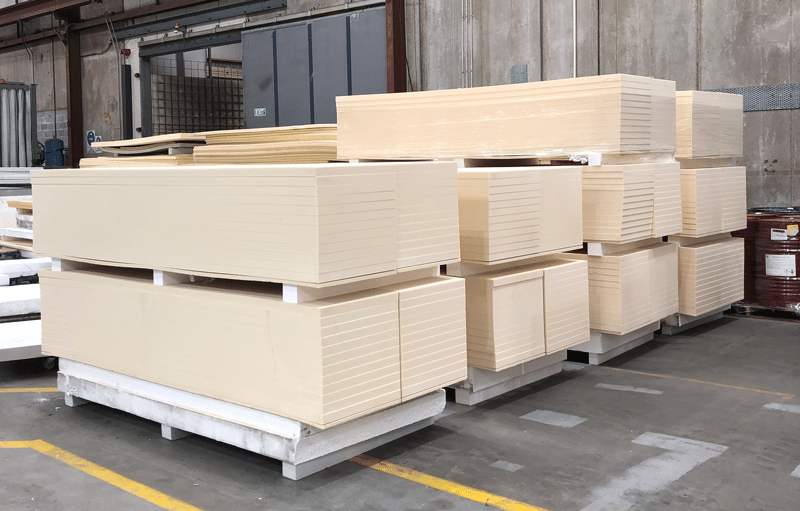 Ausblox manufactures PUR and PIR polyurethane products for the construction, marine, theatrical. packaging industries and custom solutions. Our polyurethane products provide superior thermal and fire retardant properties for end solutions that meet Australian Standards. We are able to manufacture to custom requirements.
Ausblox Polyurethane Foam products like our EPS products are available in a variety of densities and custom densities, and available, with our cutting technology, in custom profiles.
Creating fill and insulation for sandwich roof, wall and door panels for the construction industry is a speciality for the construction industry and specific use conforming to specific standards. With our PIR products and the enhanced capability to insulate between -50C to 130C these product meet extreme requirements and standards. Perfect for Pipe Lagging, refridgeration and cold store panels and doors.
Polyurethane Foam Benefits
Strength, Rigidity and Lightweight
Enhanced Thermal Properties with 

low thermal conductivity

Enhanced Fire Retardant properties
Very Stable

Moisture resistance

Ausblox manufacture to custom specifications

Australian Standard Conformance

Ausblox cutting technology for custom shape profiling
PIR products provide the ultimate in thermal and fire resistance. PUR provides properties above EPS products.